Frequently asked questions
What is a HAU Hair Pack?
---
HAU Hair Packs are the hair equivalant of sheet masks for your face. This professional quality hair treatment is the ultimate in hair care. The disposable cap contains a vitamin-rich serum that nourishes the scalp, promotes healthy hair growth and revitalizes dry, damaged, lifeless hair for incredible volume, moisture, shine, and repair.
---
Why HAU Hair Pack?
---
This 30-60 minute at home process mimics popular "hair treatments" in Korea. These deep conditioning treatments can take 2-4 hours in the salon and range from $90 to $300.
HAU Hair Pack is not just a deep conditioning treatment, it is a premium salon-quality treatment that can be used at home. Unlike a deep conditioning treatment, HAU DOESN'T WEIGH YOUR HAIR DOWN. It will give you a lightweight bounce, with natural lift at the roots. (This is amazing for fine hair clients that need hair repair!)
The creator Dian, was a woman that stuggled with her hair and was frustrated with the lack of good-quality products available to consumers. She took her time, the utmost care and focused on product research and development to create a salon-quality premium serum that is free of harsh chemicals, and is gentle on your hair and scalp. HAU cares about consumer satisfaction. Her goal is to help people feel good about themselves, and she is always open to feedback, to grow and improve your experience.
"I have chosen to support HAU Hair Pack after comparing it to ALL other Korean hair masks on the market because when I tested all of those brands in my salon throughout 3-6 months, HAU outshined them all. HAU's product results were better than anything I have tried, as a professional or consumer."
- Michelle Farley (Stylist/Beauty Educator/CEO Edify Haircare)
---
What does HAU Hair Pack Do?
---
THINK OF YOUR HAIR AS A PLANT. A NOURISHED PLANT GROWS STRONG, BOUNCY, RESILIENT, AND VIBRANT. A PLANT LACKING NUTRITION IS BRITTLE, DULL, AND HANGS LIMP.
WHEN THE SOIL IS LACKING NUTRIENTS WE FERTILIZE.
YOUR HAIR IS THE PLANT, YOUR SCALP IS THE SOIL, HAU IS THE FERTILIZER.
NOURISH YOUR SCALP WITH VITAMIN PACKED HAU HAIR MASK PACK.
Elements such as heat damage, improper care and brushing, chemical treatments such as color, highlights, perms, straightening and smoothing treatments, etc. all damage our hair and can make it hard to manage, cause it to be dull, and even look fried and frazzled. It can cause our hair to be limp and lack movement. HAU hair pack transforms the apperance of your hair and scalp. A healthy scalp promotes healthy hair growth. Healthier hair has more volume at the root because it is stronger. Hair that is in healthy condition swings, bounces, and has shine. HAU contains Korean ingredients, such as snow fungus-which can hold up to 500X it's weight in moisture, helping combat frizz and the signs of damaged hair. With continual use, hair becomes shinier, bouncier, and more managable.
---
Who Is HAU Good For?
---
All hair types.
Especially...Dry, dull, damaged, broken/split ends, fried, frizzy, curly...even flat, limp, and thin
AND... those that use heat often, color, highlight, perm, chemically smooth or straighten, or neglect regular haircuts.
---
Who Are Hair Packs Not Good For?
---
There isn't a hairtype that will not benefit from HAU, but there are some instances that we would like to prepare you for:
YOU HAVE TOO MUCH HAIR:
People with very large hair (very long curly large afro) - we recommend instead of using the Hair Pack, to use HAU serum with your own hair cap or (cover with ceran wrap) for 60 min. Use at least 1/5th of the bottle, per application (this is the same amount of serum in a Hair Pack.
Very long (below the chest) thick hair: you may need to use 2 caps, one for the top of your head and one over a ponytail, OR use HAU serum in tandem with.
Apply serum to the scalp and throughout before using the HAU HAIR PACK.
YOU HAVE A VERY BUSY LIFESTYLE:
We hear this sometimes. HAU hair pack weekly treatments will ensure the quickest longest lasting results, so we like to offer some suggestions:
Try to find time to integrate into a routine you already have llike while you clean your house or watch TV.
I suggest doing a quick shampoo under the faucet and then showering after the cap.
But maybe you are an over achiever and really do not have the time to stay consistant.
Then you should use the serum in place of conditioner, every time you wash, and replace the Serum with the Hair Packs as you have time.
---
How Do You Use a HAU Hair Pack?
---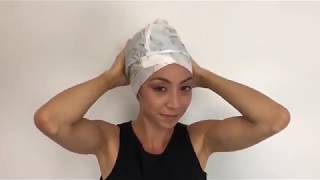 Step by step:
Read through instructions completely before shampooing to ensure the best success!
Prep the cap:
1.Tear open white pouch
2.Take out cap, unfold, and lie flat
3.Take your hand as a blade and smooth the serum from the top of the cap, down toward the bottom sealed opening, to evenly distribute the product
4. Peel the back of the sticker up slightly (sticker peels from the inside out (left to right))
CAP USE:
1. Shampoo hair
2. Do not condition
3.Towel dry (if your hair is dripping, it will drip out of the hair cap)
4. Either (a)place hair in a loose bun, place the cap on top and make sure ends are tucked in. (this will focus more heavily on the scalp and root area) proceed to step 5.
or(b) flip your head upside down so the ends dangle toward the floor. Tuck ends in the cap and gather hair to the top of the head, with the cap snug against the top of the head
5. Pull the cap tight to the back of the neck. Gather the excess cap in the front, where your forehead is, and fold it from left to right so the sticker can be used to secure the cap to fit your head
6.Once secure, squish the serum all over the hair and head.
7. Wear for 20-60 min.
8. Squish periodically throughout processing
9. Rinse thoroughly10. Dry as usual
*No need to use conditioner after using a pack...Just rinse and dry.
If you have fine hair: after the first box (5 packs)...there is no need to use conditioner...EVER, just one pack a week will do...and use 2x a week if getting a color, highlight, smoothing treatment, etc. (one the wash before the service and one pack the wash after the service).
---
How Often Should I Use Hair Packs?
---
Each box comes with 5 packs.
Use 2 packs the first week
Use 1 pack a week after that
If you color, highlight, smooth, perm, etc...Use one pack before the service and one pack at the first shampoo after the service.
Once hair is in a good condition (you will know this because you will notice that there is still alot of serum in the pack, and your hair is not absorbing it as much anymore...then you should use packs:
once a week if your hair is curly, dry, or has many heat or chemical processes once every other week or as needed and always use before and after a chemical service of any kind to keep your hair in optimum condition and ensure a good service before and after.
---
When Will I See Results?
---
This depends on the condition of your hair and scalp when you begin using the hair packs.
You will notice softness and shine upon first use, but the real transformation comes over the first few months.
On average it takes 2-3 months to see if ANY hair product is really having an effect. It takes about 3 months to know if a product is really helping your hair...many products band aid...meaning they feel great at first but eventually seem to have no benefit. It takes 3 months for your hair to adapt and show true change.
If your hair is very damaged, it may take 6-9 months for your hair to reach its maximum potential.
You will notice the amount of serum left in the pack is very small if your hair is damaged, as it gets better, more serum should remain in the cap because the porosity of the hair is evening out.
Think of a sponge, if it retains moisture, it can not soak up as much moisture.
---
Is HAU Good For Fine Hair?
---
YES! Love how voluminous your hair is when you leave the salon? Achieve this look at home with less effort! Fine and damaged? HAU is the first deep conditioning treatment that repairs, moisturizes, and is...not only lightweight...but actually gives you more volume!
First time use HAU with fine hair you will be amazed at how soft and light your hair feels.
With continual use hair grows stronger at the roots, so there is natural volume and lift.
With continual use the hair cuticle itself becomes thicker
Helps hair to appear fuller
Feel like conditioner is to heavy for you? Now you can toss your conditioner and use the hair pack once a week instead (tip: hate tossing unused conditioner...use it as shave gel instead)
---
Is HAU Good For Curly Hair?
---
Yes, not only do you get the scalp benefits and stonger, shiner, richer hair...HAU helps keep curly hair more managible and there is more lift at the roots so hair looks balanced. Longer curly hair comes to life and has more bounce and shine. Men with curly hair have said their hair looks noticiably better with less effort. HAU makes it easier to blow out/straighten your curls/waves, and the results of your effort last longer (i.e. holds up to humidity better). Recommended Routine: - Use HAU Shampoo and a good amount of HAU Serum (you want to coat all of your hair (you will use more in the beginning and less ove the next 3 months)) -Once a week subsititue the serum with the HAU Hair Pack.
If you are a curl type that does not do well with protein rich products, Use HAU Mango shampoo, your normal conditioner, and a Hair pack once every 1-2 weeks.
Curly/damaged- if curls have been through chemical processing they can get looser (or limp, flat, lazy) With HAU you will see the revitalization of your curls. With continual use curls will spring up to their natural form.
---
What does HAU do for Damaged Hair?
---
Notice Visually Healthier hair in 1-5 treatments.
Hair condition will continue to improve over the next 3-6 months.
Hair that is extremely damaged should do the expedited treatment or
Use as a short term treatment, or if you are someone who is regularly doing damage by coloring, heat tools, etc. we suggest you continue to use packs 2-4 times a month. This will continue to strengthen the new growth and prevent hair from getting to a bad state.
"My clients and I have noticed better visual results than Olaplex"-Michelle Farley/Hairstylist
---
What does HAU do for the Scalp?
---
HAU balances scalp moisture
Oily becomes normal and can go more days between shampoos
Dry hair becomes hydrated with less irritation and flaking
A healthy scalp promotes healthier hair growth. Think of a plant, the scalp is the soil, the hair is the plant,
---
Is HAU Good For Thinning Hair?
---
Yes! The ingredients contained in HAU promote a healthier scalp enviornment which promotes healthier hair growth. These ingredients are also known to preven hair loss. HAU also:
Adds hydration, softness, and shine to dry aging hair
Thickens the individual hair strands with continual use
Adds fullness throughout to hide thinning

Some people have seen new hair growth, but we can only say it will help you keep the hair you have.
---
If My Hair Is Already Healthy, Should I use HAU?
---
Yes! This vitamin treatment is filled with skin care quality ingredients that will promote a healthy surface now, keep products and maintance to a minimum, and keep your hair growing healthy in the future. Think of it as anti aging for the hair and scalp.
Use to prevent hair loss
Increase shine and natural lift/volume at the roots
Protect from future damage
Skin care quality ingredients ensure a healthy scalp and proper moisture balance
Less days between Shampooing!
---
Is HAU Good For Men?
---
YES! Our guy clients love how great their hair looks and feels with minimal effort. Curly and straight have both commented how their hair looks better even without styling. HAU is also great to:
Prevent hair loss
Some men have had their receding hair line move forward (not a promise just what we have heard/seen)
Use on beards to make them softer at any length
Use on beards that are patchy (sparse in places) to help fill in -works for some guys, not all
---
How Does HAU Compare to Conditioner?
---
HAU is a vitamin treatment and therefore works to heal the hair over time. The results are cumulative not instant like most conditioners, and it is intended to be applied to scalp and ends where conditioner should only be used on the middle to ends.
It may replace your need for conditioner the remainder of the week depending on hair type
Why is HAU better than conditioner?
It WILL NOT weigh down your hair

It does more than soften and detangle; it balances scalp moisture, volumizes and repairs.

With HAU do not expect hair to detangle easily and provide glide during and after first use. It will in time, but since HAU is improving the cuticle, hair that is prone to tangles will not get the instant gratification most conditioners offer. It will be several hair pack treatments before the tangles become less.
---
How Does HAU Compare to Vitamin Supplements?
---
The problem with oral supplements, is that our bodies can't control how it is dispersed. With HAU Hair Packs, the vitamin concentration goes directly on the scalp and hair so it can be absorbed at the source.
HAU also offers skin care benefits to scalp, allowing you to shampoo less with oily or dry hair types.
---
How to Use The Sticker on the Cap?
---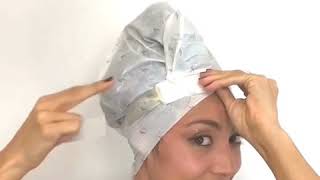 Prep it before you shampoo by peeling the backing off partially (from side closest to the cap outward) Put the cap on so the sticker is toward your forehead. Then slide into place. Check out the video!
---
---